---
---
PRODUCT DESCRIPTION

Profile
Mellow Concave / Steep Kick
CONSTRUCTION
Resin-7 - Resin-7 Construction boards are single pressed meaning that each board is identical to its brother on the shelf. Made from 7 plies of Canadian hardrock maple, the Resin-7 construction uses a gnarly epoxy that allows for more strength with less glue. This means that Resin-7 decks are considerably lighter, stiffer and longer lasting than traditional 7-ply construction.
PROFILE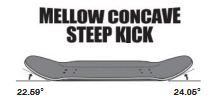 Mellow Concave / Steep Kick
Build this skateboard deck into a complete, save 10% and tear the Sydney skate parks and local spots near you a new one! World Of Wheelcraft skate shop offer FREE LESSONS when a complete skateboard is purchased.
---